Premier Travel Savings Overview
If you are ready to save money on things you do daily and when you travel, get started today with Premier Travel Savings Lifestyles Subscription. 
Based on paying a minimal first year activation fee and an annual renewal fee, you have VIP access to savings, benefits and services that, when used, will save you time and money. 
Our benefits are displayed in three categories. Here is a screen shot of the Subscriber Dashboard.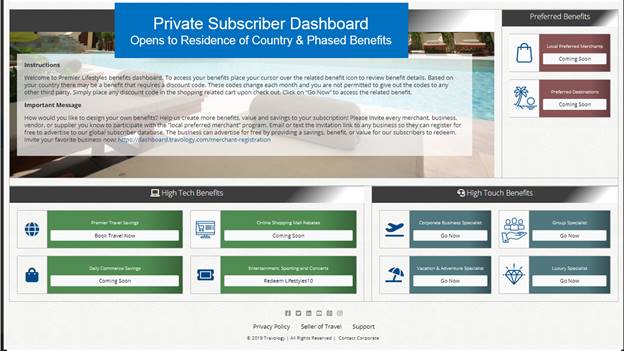 High Tech
This category offers access to PTS travel booking engine, shopping mall savings engine, rebates mall engine, and sporting event and concert savings engine.

High Touch
Receive professional help planning complex vacations or adventure (outdoors), groups, corporate travel, and luxury (private jets, luxury homes, yachts and limos) or other travel you do not, or cannot book online. You will have access to a Destination Specialist that provide a level of service that you will not get with the big .com websites like Expedia, Priceline, or any other online travel site as they outsource to cheaper out-of-country customer service staff that have no travel experience.
Preferred Benefits
There are two benefits for this category:

– Preferred Destinations: This benefit allows you to access hot deals that our suppliers upload when they have hot deal or last minute offers the supplier does not want to make available to the public.

– Local Preferred Merchants: This benefit allows you to access local store front merchants and businesses that will provide you a savings when you show up to their place of business. Log into your dashboard and click on their offer to show you are an active subscriber. You can also help design your benefits by emailing a link to your favorite business so they can advertise for free in this section. The business receives the link, registers with our travel company and uploads their business details, savings or benefit. This is a great way for any business to obtain free advertisement to Lifestyles Subscriber base to establish new customers. 
If you make a commitment to get started today as a subscriber, you will also receive a special limited offer gift. How about taking your first major vacation on us? This incredible offer is limited so make sure to visit the order page to learn more!
The "High Tech" private access PTS booking engine platform offers multiple languages and global currencies with savings and value to include:
Over 1 million hotels, and resorts, plus all-inclusive destinations  
Global Luxury homes 
Global 7 night condominiums 
Cruises, sail boats and yachts 
Global excursions and activities 
Global tours 
Hot vacation packages 
Global car rentals 
Timeshare exchange program
Global golfing 
Wine club
Wholesale shopping network link to save 30% off CBD products, nutritional supplements and many more shopping categories!
If this is not enough value how would you like to travel for free? How many people do you know that travel? You have access to our new "family and friends" referral program called "ECO Rewards". This referral program allows you to send unlimited emails to anyone and everyone to access a modified version of PTS where that can save 50% of what you save on hotel and rental cars. When they save 50% of the available savings you will earn the other 50% of savings as ECO Rewards credits that can be applied to your future free travel.   In addition, every time you personally purchase travel though the PTS booking engine, you generate reward dollars to apply to future free travel! Save on travel and when you save on travel you earn credits to travel for free! Amazing! 
To get started today click here!